If tree removal is the best option, we'll go over the plan and keep you informed.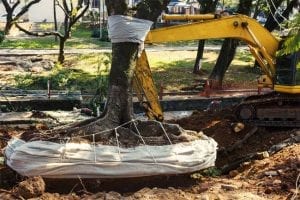 When you invest in the landscaping on your property, it's important to protect that investment by providing proper care and maintenance of the trees and shrubs. At Wes' Tree Service, we deliver a variety of tree services for commercial and residential property owners in Innisfil, Ontario. One of the services we provide is tree removal, which may become necessary when trees become hazardous beyond repair or diseased. A diseased tree can spread its ailment to other plants that surround it, so it's critical to get that issue resolved before too much damage is done. A tree that poses a hazardous situation may have damaged branches that are beyond repair and could fall off at any moment.
Regardless of why you find yourself in need of tree removal services, our team at Wes' Tree Service is here to take care of the task. Before we begin the process of tree removal, we'll make sure the tree is not able to be saved. If we determine it is too far gone, the next step is carefully and safely removing it from your property. We can also remove and grind the stump, and then fill the area with seed, sod, or screened topsoil, depending on what you plan to do with the space. Our team members are able to remove trees of all sizes for both commercial and residential clients.
As a customer-focused business, we take pride in delivering customized solutions for each individual client. If tree removal is the best option, we'll go over the plan and keep you informed. Contact us today for more information about tree removal.
---
At Wes' Tree Service, we offer tree removal services in Barrie, Innisfil, Muskoka County, and Simcoe County, Ontario.