Call us at Wes' Tree Service for stump removal at your property in Barrie.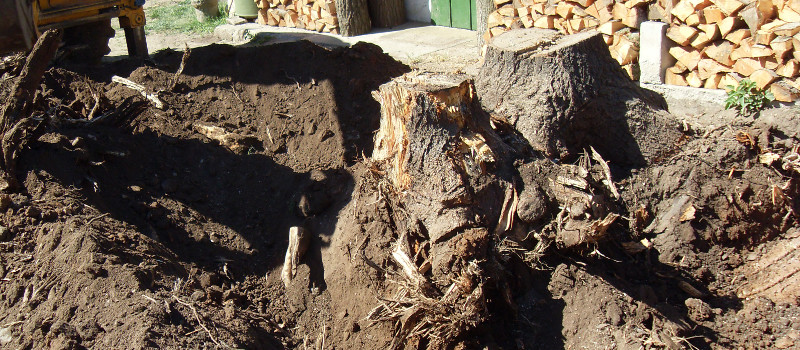 Updating the landscaping at your property comes with a number of benefits, including increased value and improved curb appeal. By adding new trees or replacing dead ones, you can also enjoy the advantages of having lush, full landscaping, such as improved air quality and a shady space to relax. However, replacing your landscaping may be challenging when you have tree stumps left behind where diseased or damaged trees once grew. If you are trying to determine whether you'll have to plant around them or try to remove them, you may find that this is a challenging and sometimes dangerous prospect. If you don't have the right equipment to remove stumps, you could end up hurting yourself.
Instead of trying to take on stump removal yourself, call us at Wes' Tree Service for expert solutions at your property in Barrie, Ontario. We provide stump removal, along with a variety of other tree services, to help you achieve the landscaping you've always wanted. When our certified arborists arrive at your home or business, you'll know that you are working with experienced professionals who are equipped to handle your tree care needs without having to take part in hours of back-breaking work. Our arborists bring the proper equipment to your property, offer fast efficient solutions for removal, and will recycle the wood by cutting the stump into small wood chips.
Another great reason to hire us at Wes' Tree Service when you require stump removal is because we also know you don't simply want a gaping hole in your yard where the stump was. We can provide complete services that include backfilling the area and adding topsoil or other landscaping soil that will allow you to create a new feature on your lawn. We can also provide recommendations for planting new trees and shrubs and offer ongoing maintenance solutions that will keep your remaining trees and shrubs looking their best year-round.
Are you considering tree removal due to damage or disease, and you're looking for a team that knows how to handle both the tree and the stump? At Wes' Tree Service we're here to help with both. Not only can we assess your tree to determine if it should truly be removed, but we can also address the complete process of tree and stump removal, so you achieve your landscaping goals. While tree removal is often our last resort, we also know that you'll want an experienced arborist to aid with this process when the time comes.
If you're tempted to leave the stump behind, consider the disadvantages of having unsightly stumps within your landscaping. Not only do they look unappealing, but they can also pose a tripping hazard as you're trimming your lawn or running around with your kids. Old stumps often attract beetles, ants, and other pests, which you don't want in your yard. These cons make it obvious that stump removal, handled by a skilled professional, is the right option for your landscaping. Contact us at Wes' Tree Service to schedule your stump removal service.
---
At Wes' Tree Service, we offer tree stump removal services in Barrie, Innisfil, Muskoka County, and Simcoe County, Ontario.